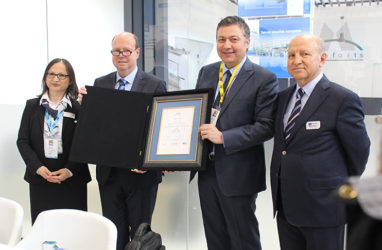 Plaque From Monforts to Kipaş That Made Shrinking Machine Investment – Monforts presented Kipaş Mensucat a plaque at ITM for purchasing an innovative shrinking machine equipped with the latest technology.
One of Turkey's leading textile manufacturers Kipaş was awarded a plaque by Monforts in result to their latest shrinking machine investment. Having been installed and working at Kipaş's denim facility for the past months, Monfortex shrinking machine is increasing productivity and quality with new features. Kipaş Holding Vice Chairman of the Board Ahmet Öksüz, Mehmet Yerbasan from Kipaş Mensucat, Monforts Turkey Regional Sales Manager Thomas Päffgen, Neotek Tekstil General Manager Ahmet Kılıç and other senior officials of the companies participated to the ceremony held at Monforts' Turkey representative Neotek Tekstil's booth at ITM 2018.
Speaking at the presentation of the plaque, Ahmet Öksüz said that the new shrinking machine was purchased in order to expand Kipaş's denim facility. Stating that the shrinking machine is the last generation and equipped with various special options, Öksüz described their target as reducing costs and especially energy costs while increasing productivity and quality.
Öksüz said; "They have performed a very thorough technical investigation before the purchase to determine what we need. As a result, we saw that Monforts technology was corresponding to our requests. A new generation machine was bought and started to work immediately after installation. The shrinking machine that works in our facility for one and a half months has exceeded expectations. The new shrinking machine in the Monfortex series is equipped with a variety of features not found in classical shrinking machines, such as giving the fabric shrink properties. The production process can be monitored from beginning to the end".
New shrinking machine offers contribution to sustainable production
Stating that reducing energy costs in production and achieving a sustainable production process is a top priority at Kipaş, Ahmet Öksüz explained that the new shrinking machine supplied from Monforts has exceeded their expectations in energy cost savings. Öksüz; "It also offers us significant contribution in terms of sustainability. Today, we are thinking about how to produce by using less water in the production process, less polluting the environment and lowering the costs even further. This means a sustainable production".
Expressing a positive contribution by the new shrinking machine to the quality of the fabrics, Öksüz said that Kipaş has been carrying out studies that will always improve the quality of the fabric for customer satisfaction. Underlining their commitment to quality standards, Öksüz reminded that 90-95% of denim fabric productions consisted of elastic fabrics; "In the past, lycra and elastane were used in fabrics preferred by women. Today, however, these features are also used in menswear fabrics. Therefore, there will be a simultaneous increase in our production and our quality with this investment".
Monforts was preferred for new stenter investment as well
Stating that Kipaş Mensucat is investing constantly; Ahmet Öksüz explained that these investments were made to increase capacity and to renovate the technology. Saying that they had carried out studies in accordance with the concept of Industry 4.0; Öksüz expressed that customers can follow every step of production accordingly. Announcing that Kipaş bought another stenter machine from Monforts after the investment of shrinking machine; Öksüz said that this stenter will be operational by the end of May. Öksüz added that they are expecting the return of investment for the shrinking machine within a period of 3-5 years in general terms.
Ahmet Kılıç: the investment process was very fast with Kipaş
Neotek Tekstil General Manager Ahmet Kılıç; emphasized their harmonious work in accordance with Kipaş in his speech at the plaque ceremony. Kılıç said that Kipaş Mensucat's needs and demands were clearly defined; and they informed Kipaş officials about Monforts' latest technological developments. Kılıç; "The shrinking machine we had offered had many innovations and benefits that they did not use until now. They were very positive. Investment process was completed in a short period like 2-3 months."
Underlining the importance of having a machine of their own at Kipaş facilities, Kılıç continued his words as follows; "One of Turkey's leading textile companies Kipaş is producing in order to sale all over the world. So we are talking about a world brand. Kipaş's facilities especially in terms of denim have the latest technology. Having a machine in such a facility will provide an enormous contribution to Monforts; as well as to us as we are their Turkish representatives. It is our greatest desire to replace all of the similar finishing machines at Kipaş facilities; and to put Monforts technology in their places".