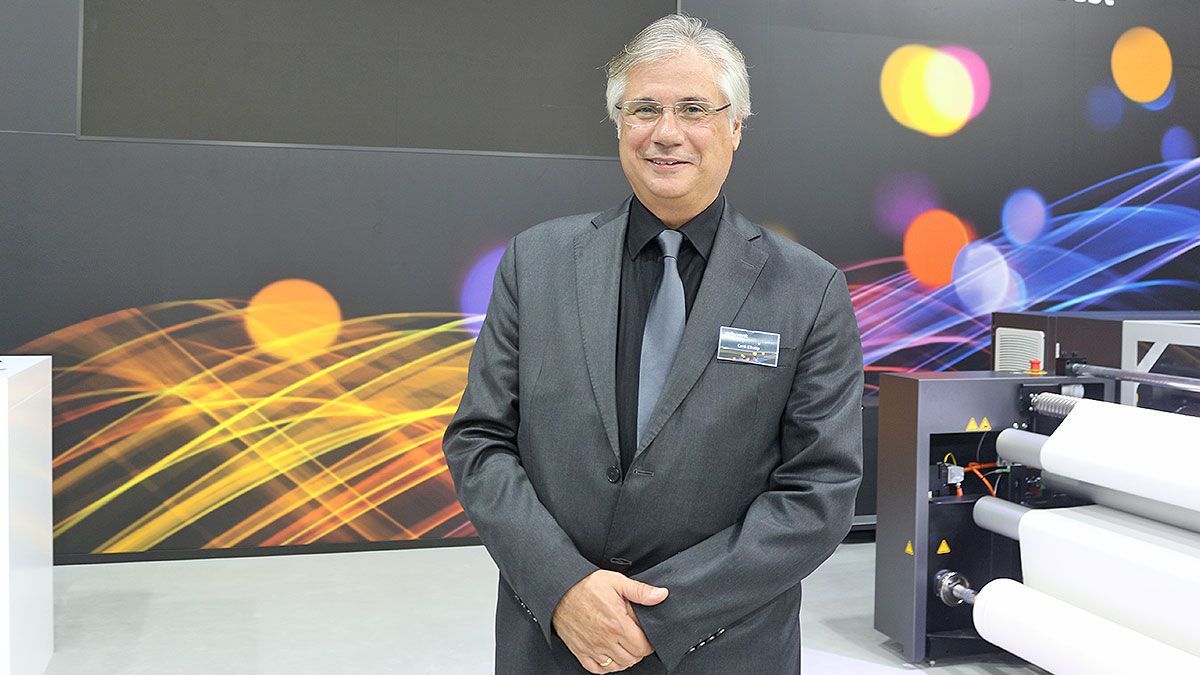 Mouvent doubles the speed with TX802. Mouvent, part of the Bobst Group, introduced the new direct to fabric printer TX802 to the textile printing industry for the first time at the ITMA 2019. Acting on a strategy of creating a real alternative to conventional printing, Mouvent also featured the previous version TX801 at their booth. TX802, which was installed in the showroom in Bursa before the ITMA fair in Barcelona, was presented to the interest of Turkish textiles manufacturers, underlining the high printing speed, colour and print quality.
Mouvent Regional Sales Manager Cenk Elkatip expressed their satisfaction with ITMA 2019. Elkatip said that they met with visitors prominently from Turkey and Pakistan, and South America, the US, Bulgaria, Romania, Russia, Egypt and other Middle East countries and Far East markets. "Since ITMA is being held every four years, the major players in the global textile market have shown great interest in this important event," said Elkatip and continued saying that there were important discussions about both existing and new products.
Expressing that the TX802 direct to textile printer, which was launched, attracted the attention of textile print manufacturers, Elkatip continued as follows; "Like the TX801, the TX802 can work with all types of fabrics and inks. This machine can print 400m2 per hour, and has doubled its speed compared to the previous model. It can print in 8 colours with 16 printheads. 2 heads are used for each colour. This ensures saturated colours. With a droplet size of 2 to 7 picoliters and a resolution of 1200 dpi, print quality makes a clear difference. In addition, thanks to Cluster technology and head cooling system, head and heating-induced malfunctions have been eliminated. During the exhibition, print manufacturers from all over the world looked for the model that best suited their business. Important preliminary meetings were held. We created a full agenda to realize these sales after the exhibition".
The main goal is to get a share of conventional printing
Cenk Elkatip mentioned that TX801 and TX802 models were exhibited and shared the information that the TX404 model, which reached 800 square meters per hour will be launched in October this year, and Mouvent's first single pass machine at the rate of 100 linear meters/minute will be launched to the market next year. Stating that Mouvent's market target is 30% of the market, Eltakip underlined that this is a general strategy of Bobst Group.
Elkatip; "With the TX801 and the late, TX802, Mouvent doubles the speed and possibilities of digital printing. The TX404 will be available later this year with 16 printheads and 4 heads for each colour. With an output of 800 square meters per hour, this model will literally be a CMYK printer. We will strengthen our claim to be an alternative to rotary printing in the market with our single-pass model reaching 100 linear meters/min to be offered next year".
Recalling that analogue/rotary printing is predominant in industrial production, Elkatip argued that the current textile digital printing market should be expanded. Elkatip underlined that digital printing should take a share of rotary in order to achieve their 30% share target in the market, and continued his words as follows; "Presumably, only 6% of the world's total print is digitally manufactured, with an increase of 20% per year. However, when we calculate this rate on the total printing market, the real growth rate is 7%, not 20%. For example, if you increase the share of digital printing from 6% to 40%, that means 600% growth. Again, we are not aiming to compete for the current market, but to increase our share by expanding it".
Mouvent doubles the speed with TX802: "Our main area of expertise is printhead management"
Mouvent, who has made a name for itself in the last few years of the digital printing industry with TX series machines; has 40 years of experience in printhead management. "Our main expertise is head management," said Cenk Elkatip; and stated that head management determines the whole process in digital printing. Elkatip underlined that they have been working with Fuji Samba printheads for the last 3 years; and that they manage these heads with the technologies they developed.
Noting that Mouvent provides assurances to ease their customers for printhead and head management system, Elkatip said; "Now that we can manage the printheads exactly the way we want them, we bring the machines to the market. We have a life-long head guarantee solution. We eliminated the problem of damaging the printheads by hitting the fabric during printing. After purchasing the machine, our customers will not have to worry about anything related to the head system".
Explaining that they focus on the industrial segment in the textile printing market; Elkatip said that as a new player in this field where there are serious competitors; they are primarily focused on proving themselves. Elkatip disclosed that TX802 was set up in the showroom in Bursa before the world launch; and made ready for Turkish textile manufacturers and that the single-pass model; which can print 100 linear meters per minute, to be introduced to the market next year; will probably be brought here for demo testworks. Recording a strong demand in the Turkish market for TX802; Elkatip added that their customers could come to their showrooms and print samples and test the performance of the machine".