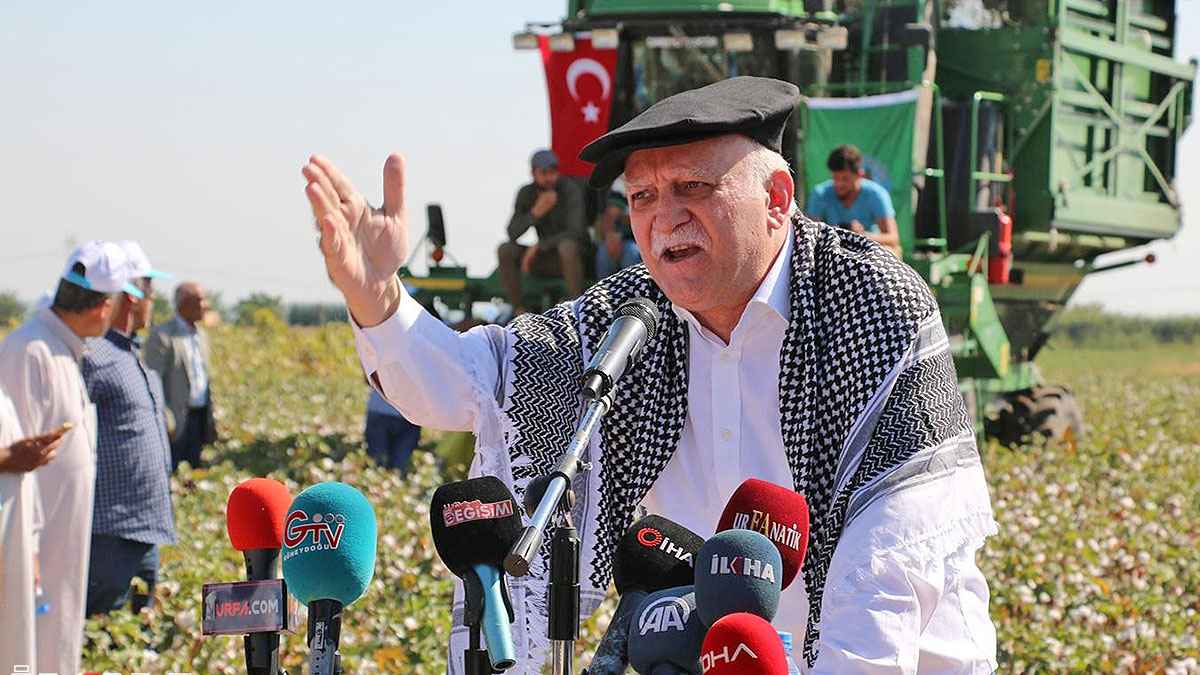 Turkish authorities continue to take various steps to combat the pollution of cotton, one of the most important raw materials of the textile industry. The Governorate in Şanlıurfa, which is one of the important cotton planting areas, formed the 'Pollution Prevention Commission in Unginned Cotton' and warned the cotton producers about clean collection of cotton.
The statement made by the Governate specified that it is mandatory to use 100% cotton cloths and yarns during the collection, transportation, preservation and storage to eliminate the contamination of cotton, which has an important position in Turkish economy. It was also underlined that the use and mixing of contaminating materials such as nylon, manure bags, natural and synthetic fibre blends is prohibited. Every year in September, October and November, the Commission periodically inspects cotton gathering areas and ginning factories and informs them.
Şanlıurfa producers warned for clean collection of cotton: "45% of the cotton in our country is produced in Şanlıurfa"
Agriculture and Forestry Director Murat Çakmaklı's comments were quoted in the statement issued by Şanlıurfa Governorate Pollution Prevention Commission in Unginned Cotton. "45% of the cotton in our country is produced in Şanlıurfa," said Çakmaklı, underlining that the characteristic and quality of the cotton produced is very important. Çakmaklı continued his statement as follows;
"In addition, cotton must be collected cleanly in order to ensure that producers gain maximum profit from the production. We attach great importance to this and show great sensitivity in this matter. In recent years, there has been a great sensitivity in terms of institutions and organizations. We want the quality of Şanlıurfa cotton to reach the level it deserves both nationally and internationally. Therefore, it is very important that cotton is delivered to the industry cleanly. The process starting with the collecting, transporting, storing and processing cotton is of great importance".
Şanlıurfa Chamber of Commerce and Industry President Halil Peltek said that the best cotton in Turkey with both fibre length and the quality is produced in Şanlıurfa but the quality cannot be maintained. Peltek said; "If we maintain this quality cotton then we can evaluate and sell the most expensive cotton in Turkey".
Turkey produced 2 million 570 thousand tons of unginned cotton in 2018
Şanlıurfa Chamber of Agriculture organized Cotton Harvest Event in September. In his speech, Turkey Union of Chambers of Agriculture (TZOB) Chairman Şemsi Bayraktar said that last year Turkey produced 2 million 570 thousand tons of unginned cotton, and 977 thousand tons of cotton fibre has been obtained from that. Emphasizing that cotton is an indispensable product for Turkish textile and agriculture; Bayraktar said that the area of cotton cultivation in 2018 rose to 5 million 186 thousand decare.
Bayraktar disclosed that the amount of production remains insufficient in meting Turkey's cotton requirements. Bayraktar said; "The ratio of production to consumption, which decreased to 49 percent in 2015-2016 production period; increased up to 60 percent in 2018-2019 period. We should do whatever it takes to increase this ratio even more and to meet our country's needs from within the country. Only last year we paid 1.4 billion USD for the import of 752 thousand tons of fibre cotton. Our country spent 14.8 billion dollars foreign exchange for cotton imports in 2008-2018 period. This money contributed to the farmers of foreign countries instead of our farmers".
Bayraktar stated that the price of cotton declined by 26% compared to the previous year; however, he argued that production costs increased, and if the measures were not taken; there would be a major problem in cotton production, especially in the Southeast Anatolia Region. Bayraktar noted that the application of zero customs in cotton is an important problem; and said that the customs duty could be increased to 6%.