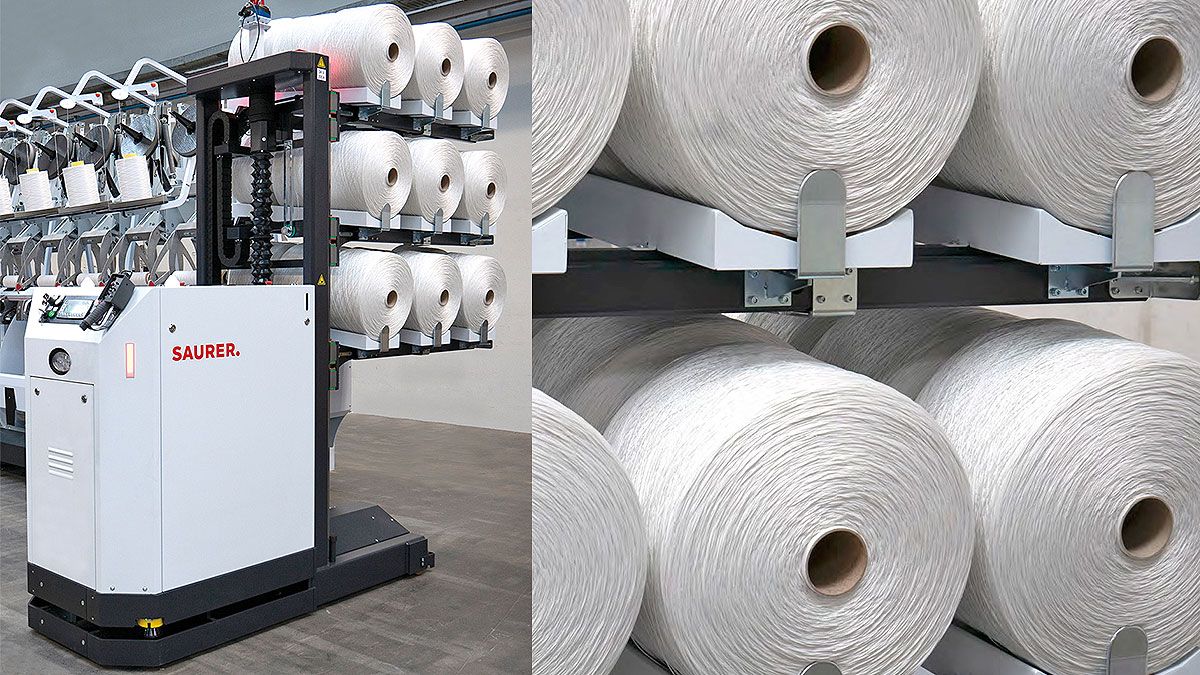 Saurer Twisting Solutions is participating in Domotex Hannover, the world's biggest flooring event at January 10-13, 2020. The company is looking forward to welcoming their customers and visitors in Hall 11 Booth B35.
Customized automation solutions for transporting BCF yarns
At Domotex 2020, Saurer Twisting Solutions will present customer-optimised solutions for process automation and product cost reduction. Automation of the material transport systems offers significant customer benefits. This is because these systems are individually adapted to the needs of our clients and enable an optimum material flow throughout the entire twisting mill. These systems provide a user-friendly control, which means reduced personnel requirements and faster operation.
Whether in the form of a lifter in combination with our rail transport system FlexFlow or the automated guided vehicle PackDrive, the modern automation solutions offered by Saurer are the next step into the future. User-friendly package transportation via space-saving overhead conveyors with intelligent route finding, FlexFlow enables optimum utilisation of your production. Divided into CreelFlow and Pack-Flow, the system transports your packages to the right place at the right time. Ergonomic design paired with intelligent control guarantees optimum package throughput. The AGV removal system PackDrive autonomously transports the finished packages from the machine's conveyor belt to further processing. PackDrive takes over up to 27 packages on a total of 3 levels.
Easier and faster with new machine generation
The new generation of our carpet yarn machine, Saurer's CarpetCabler CarpetTwister 1.10, offers an optimum of possibilities for reliably and confidently mastering even the most unusual requirements of a lively market.
Central adjustments of almost all production parameters, an intuitive user interface and the newly designed take-up area significantly reduce the machine's changeover times. Modern drive technology and innovative yarn sensor technology for monitoring the yarn quality generate significant added value for our customers.
The main features and advantages of CarpetCabler CarpetTwister 1.10 are as follows; innovative yarn sensor, electronically monitored motor spindle, new network-capable software, optimised operability due to the open and easily accessible overfeed area, new Hi-Lo creel for ergonomic operation, yarn brakes for all kinds of applications, and cooling systems in the drive unit
Process control with Saurer Mill Management System Senses
This digital system bundles and analyses production, quality and performance data across all divisions. Even machines from third-party manufacturers can be managed. Plan deviations, quality fluctuations or irregularities are thus detected in real time, enabling mill managers to react quickly. They can also use the sum of the data to analyse processes comprehensively in order to find opportunities for optimisation.