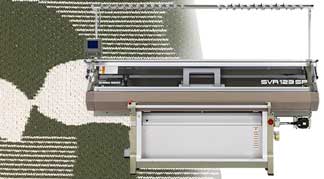 Shima Seiki was a corporate partner to the ISPO BRANDNEW Village, a special platform for promising newcomers to the sports industry.
On display at booth BN05 in BRANDNEW Village will be the state-of-the-art SVR123SP computerized knitting machine that features a special loop presser bed, capable of producing hybrid inlay fabrics with both knit and weave characteristics. Demand for such novel fabrics are very high across a wide range of applications including sportswear, innerwear, outerwear, uniforms and other functional clothing, as well as home furnishing and technical textiles.
Shima Seiki SVR123SP
SVR123SP was at ISPO Munich furthermore features the new i-Plating option, capable of alternating yarn colors in any pattern, producing jacquard-like designs using plain jersey stitch. Shima Seiki presented a new machine with a new revolutionary plating system: they call it Inverse Plating (IP). With this i-Plating, plating can be performed within the same course; and for individual needles for even greater diversity in knit design.
The latest sportswear samples produced on SVR123SP was also on display; as well as revolutionary seam-free WHOLEGARMENT knitwear that feature superior fit; comfort and style that are ideal for sportswear. They have developed great sportive samples with synthetic yarn, breathable and hydro-repellent yarns. Most famous names in the fashion industry were closely interested in fashionable and high-performance clothes.
All production process under control
The latest version of SHIMA SEIKI's 3D design system SDS-ONE APEX3 was also exhibited. At the core of the company's "Total Fashion System" concept; APEX3 provides comprehensive support throughout the product supply chain; integrating production into one smooth and efficient workflow from yarn development; product planning and design to production and even sales promotion. Especially effective is the way APEX3 improves on the design evaluation process with its ultrarealistic simulation capability; whereby virtual samples minimize the need for actual samplemaking. This realizes significant savings in time, cost and material, contributing to sustainable manufacturing