Represented in the Turkish market by Pigment Reklam, swissQprint continues to bring large format UV flatbed and roll to roll developments together with the market. The UV printing technologies expert introduced the first roll to roll UV printer Karibu to the global market last year. Carrying roll to roll UV printing to a new dimension, Karibu managed to make itself known in a short time with its efficiency and printing possibilities.
As a provider of both flatbed and roll to roll printing technologies in UV printing, swissQprint has added new ones to its developments. Print professionals can now expand their colour gamut by using orange in their prints. In addition, a special varnish application known in flatbed printing, was adapted to flexible materials and from roll to roll printing with Karibu. Thanks to the new varnish solution, effects and more that make a difference on flexible media can be achieved. It has more opportunities to provide customers with high-quality, effective printed products now.
Accurate print colours with orange
swissQprint solutions are known for their vibrant and accurate colour prints. To produce corporate colours more accurately and expand the overall colour gamut, swissQprint has developed a new orange ink.
The orange can be used as a combination with process colours or directly as a spot colour. The colour values are actually the same as Pantone 021, which is fresh, bright orange. The new orange colour complements standard paint sets for swissQprint LED flatbed printers and Karibu roll to roll printer.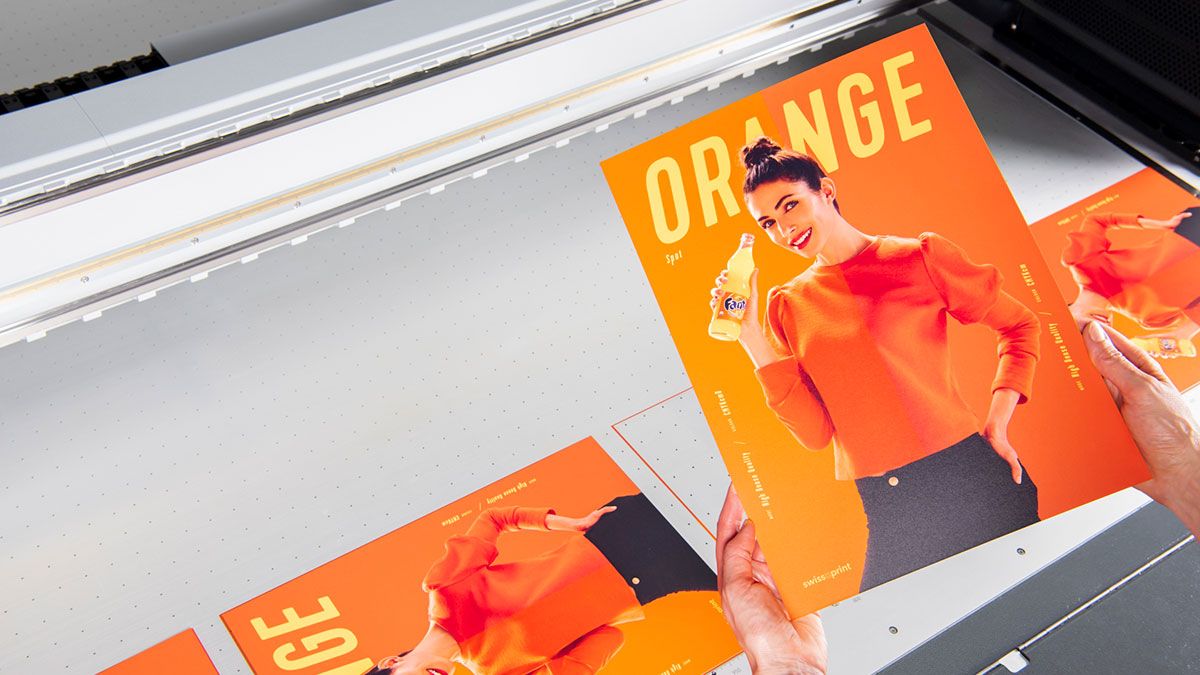 Varnish applications that make a difference in flexible materials
swissQprint also developed a highly flexible varnish for Karibu. Karibu users can now step out of the ordinary in roll media with effect varnishes. This varnish can be applied as a general surface sealer or even in multiple layers where desired for tactile effects. Thus, extraordinary opportunities emerge.
With the new flexible varnish, partial or full coverage can be applied simultaneously with the process colours or in various gloss levels from matt to high gloss. For example, you might think that patterns are highlighted by applying varnish on a wallpaper. Users can, for example, apply partial layers or optional multiple layers to create attractive visual and tactile effects that emphasize patterns in the wallpaper, or produce elegant lacquer lettering on dark roll media.
Or you can make the drop visual more realistic and highlight it in the advertisement printing of a beverage product. The brightness of the condensed drops and the three-dimensional feeling will affect those who see it. It is possible to apply almost endless varnish applications in indoor or outdoor printing.
The life of the printed product is extended with varnish
Flexible varnish goes beyond improving the visual appearance in printing. A varnish coating printed on process inks makes the ink layer more resistant to water or solvents. It provides a practical solution for regularly cleaned printed products. The varnish can also completely cover the processing layer to provide surface gloss or easy sealing. In addition to removing water and solvents, this application also increases wear and friction resistance, extending the life of the printed product.
Like all other swissQprint colour channels, orange and varnish channels can be adapted or re-added to existing LED printers. This means that existing customers can also take advantage of new opportunities.
Multi-layer transparent printing with Karibu
One of the main advantages that roll to roll UV printer Karibu offers to its users is its high-precision multi-layer printing. Double-sided prints on glass films or other transparent materials will make your business more profitable. The same or different images and texts can be created easily and clearly on both sides of the transparent material. Since all layers are printed at once, there is no risk of overflow or deterioration.
White plays a crucial part in multilayer printing. White is used with the following versions according to the requested print appearance: as overprint (image + white) or underprint (white + image), for day and night-time applications (image, white, image) or for five-layer prints (image, white, blocker, white, image).