Textilegence Magazine welcomes its readers with a full content in the last issue of 2020. We can clearly see that the Covid-19 pandemic left its mark on the whole year. In addition to the negativities experienced in the news we prepared throughout the year, we also revealed the advantages gained by the production of alternative products. In our Textilegence November – December 2020 issue, we present the ongoing trend in investments as well as the ongoing effects of the pandemic. Here are some tips on Turkish and world textile and printing industries.
Special interview
In this issue, can read about how did one of Turkey's leading textile manufacturers Haksa Tekstil has achieved sustainable production with Saurer's new generation Autocoro solution. Serdar Sağıroğlu, the company's Chairman of the Board, explained their priorities, goals and why they preferred Autocoro as a yarn manufacturer.
Investments
By opening a new facility in Mardin Savur, Akar Tekstil both increased its production capacity and created an important source of employment in the region. More information about investment is waiting for you.
Bursa-based İlay Tekstil strengthened its machine park with Monforts Montex stenter. The company, which increased its investment in energy efficiency with this machine that was installed and operated with full power, touched on important points.
Sezginler Tekstil emphasizes the advantages it has obtained by purchasing TexCoat G4 non-contact finishing solution from Baldwin.
South Korean industrial giant Hyosung has decided to increase its investments in Turkey. So what is in the new investment package? More is in the news.
Weaving
Itema plays a role in an important textile investment. They have been selected as a partner in Egypt's largest investment and modernization program ever. Well, what will Itema offer in this process, all in our news article.
Could weaving technologies be an option for creating artificial snow floors for the ski industry? Staubli has some ideas on this.
Innovations in knitting
Knitting industry in Turkey has always been a major force. Mayer & Cie, the leading brand supplier in the market, underlines its commitment to this market. You can take a closer look at the brand's relationship with Turkish knitters.
With Groz-Beckert, a journey into the knitting world will come to you more enjoyable and informative than ever before.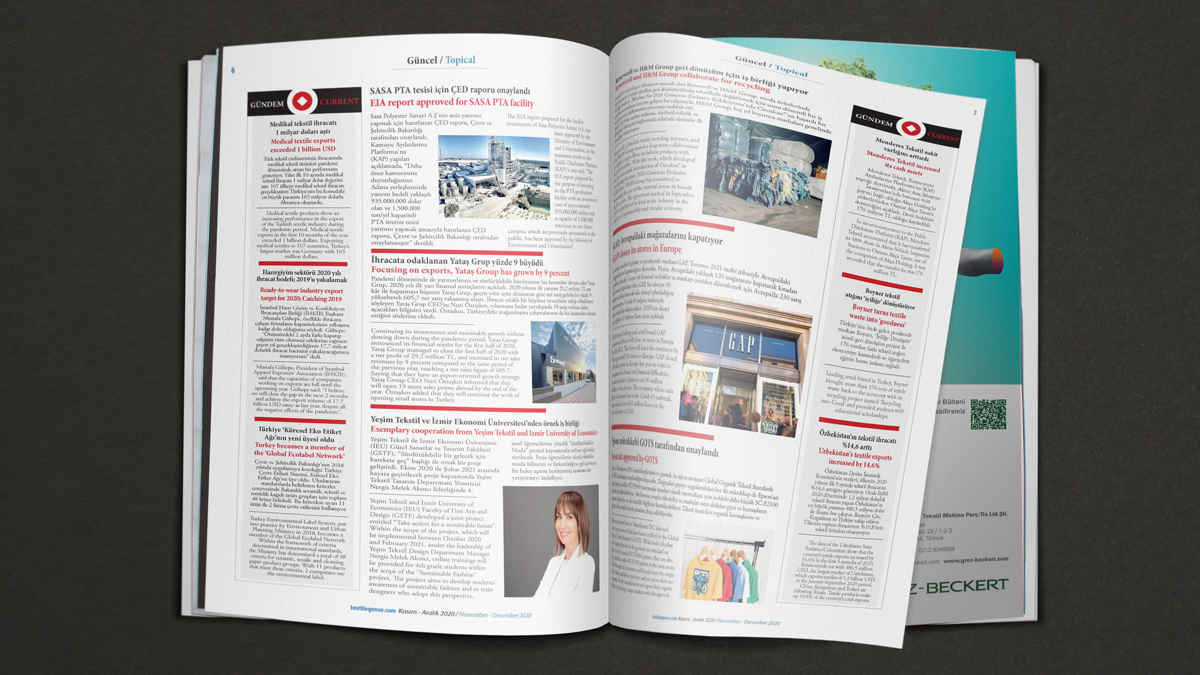 Innovations in fiber industry
Man-made fibers are the most processed raw materials in the textile industry. So what should be done to increase productivity and reduce production costs and faults. Truetzschler's TC 19i comb is the first step in this regard.
So what is going on with cotton? How are Turkish cotton producers especially in pandemic conditions? Our news titled "Turkish cotton misses its old days" lend an ear to the producers.
You can subscribe from this link to read the entire magazine.
Innovations in digital printing
Innovations in digital textile printing continue without interruption. With the microfactory concept offered by Kornit Digital, the transition to the production method that starts with an order is considered instead of the process from stock and from production to consumption. For more, don't miss the news.
Mimaki added a new model to its 100 series; JV100-160. You can learn more about the advantages of this eco solvent printer, as well as the fact that the CS250 inks used receive Greenguard Gold certification.
Just click or subscribe to our printed magazine to read more in Textilegence's November-December issue.