One of the leading manufacturers of optical yarn clearers, Loepfe will be waiting for its visitors with its latest innovations at ITMA Asia + CITME 2021 on June 12-16. Loepfe will exhibit the innovative YarnMaster PRISMA yarn clearer together with the well-known YarnMaster ZENIT+ in the market at booth C22, hall 8 at the fair to be held at the National Exhibition and Convention Center in Shanghai. Due to the travel restrictions related to the pandemic, the company will be represented at the fair by its partners in the region, C.N.T. – CIMACO Ltd. and Point Hope (Textile Machinery) Ltd. Loepfe representatives will be available for conference calls throughout the fair.
Switzerland-based Loepfe is at the forefront with its YarnMaster ZENIT+ and YarnMaster PRISMA dual solution, in terms of technology and performance, as well as proven reliability and price advantage. Yarn manufacturers around the world have been using the company's YarnMaster yarn clearer technology for decades. Following its counterpart with three sensor technologies, Loepfe takes another step forward in the market with YarnMaster® PRISMA, where it combines four different sensors.
YarnMaster PRISMA: four different sensor technologies combined for the first time
YarnMaster PRISMA brings together infrared optical, RGB optical, capacitive and triboelectric sensors for the first time through the innovative use of four different sensor technologies. These elements enable previously invisible yarn faults and irregularities to be detected, while also allowing data collection and analysis for effective online quality management through Loepfe's MillMaster® TOP management cockpit.
Two dominant sensor technologies in the DM sensor; an optical and a mass sensor are integrated into one single sensing head, offering unique possibilities and new levels of precision in yarn clearing. The new RGB F-sensor provides contamination control during winding by illuminating the yarn in the full light spectrum. Thus, it allows to recognize the smallest shade and glossiness differences in any type of yarns and colours and their mixtures. The P4 sensor offers a creative solution for the reliable detection of white and transparent polypropylene, one of the most difficult steps in yarn clearing.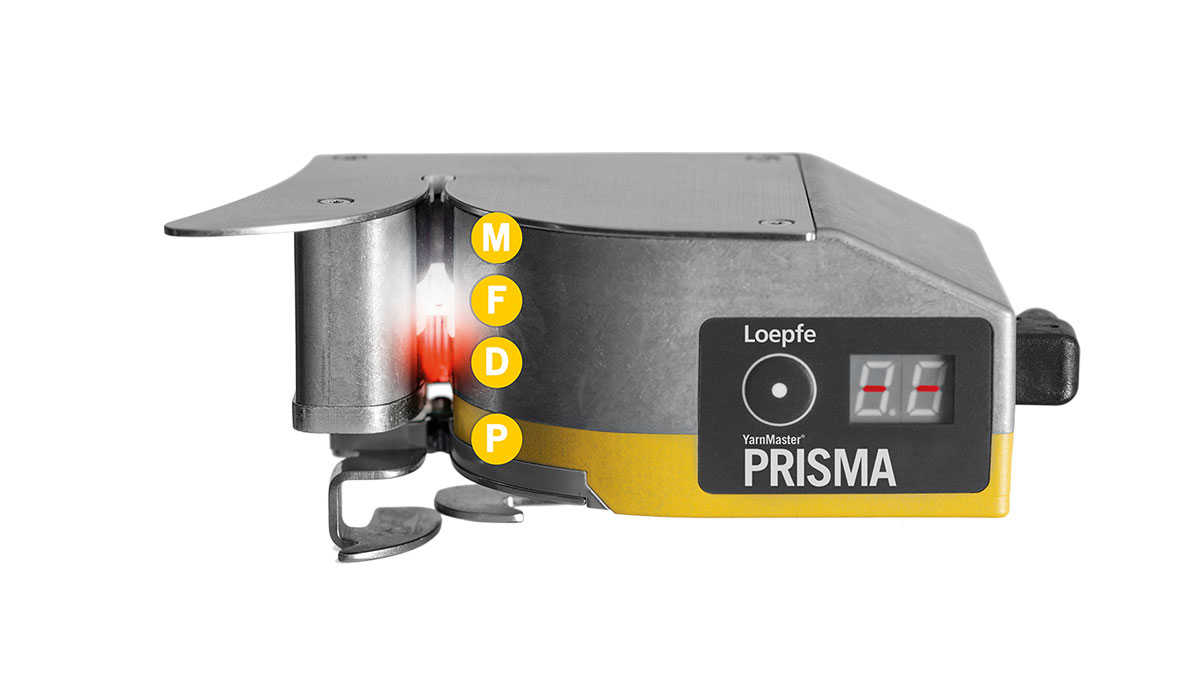 The new benchmark in yarn clearing sensors
Loepfe Head of Products and Solutions, Guido Wieland stated that YarnMaster ZENIT+ yarn clearer has been regarded as a workhorse for the company and has gained a well-established place over the years. Arguing that its competitors are still using sensor technology developed more than a decade ago, Wieland said; "With YarnMaster® PRISMA we have clearly set the global benchmark for yarn clearing sensor technologies. Drawing on today's smart technology, we have taken performance in its various applications to a whole new level. The whole team is excited to see the enthusiasm generated by the YarnMaster PRISMA and our motivation to deliver even more intelligent solutions is at an all-time high".