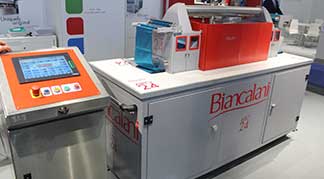 Developer of drying and finishing technologies for woven, knitted and nonwoven fabrics with efficiency increase mindset, Biancalani has attended the ITMA ASIA + CITME 2018. Evaluating opportunities for the Asian market, the company aims to increase their Turkish market power.
Attending the ITMA ASIA + CITME 2018, Biancalani hosted visitors from the Asian market with its engineering solutions in the field of textile finishing. Biancalani took their place in the national pavilion formed by ACIMIT, the roof organization of Italian Textile Machinery, and told about technologies they have developed for weaving, knitting and nonwoven fabrics.
Biancalani's second-generation executives General Manager Rossano Biancalani, company manager Massimo Biancalani and R&D Department Engineer Enrico Innocenti Lanini said they were particularly pleased with the interest shown in AIRO 24. Responding to Textilegence's questions, Rossano Biancalani told about their Turkey market expectations and goals.
Rossano Biancalani said that Turkey is an important market for them which they are closely following, and he expressed an increase in sales in Turkey after August 2018. "We do not know whether this increase will continue," said Rossano, adding that due to general economic uncertainties, the situation is not easy for Turkish customers. Biancalani said they were optimistic about the future for Turkey none the less; "The reduction in tensions between Turkey and the US guides us to more optimistic thinking. In addition, additional taxes on second-hand machinery imports have been increased. Thus, new machines have become more attractive for those who will invest. Moreover, they get full technical support as well."
AIRO 24 sales continues for the Turkish market
Rossano Biancalani has disclosed an intense sale of AIRO 24 to the Turkish textile industry in the recent period. Stating that they participated at the ITMA ASIA with a scale model of this machine, Biancalani noted that they had made continuous improvements on the machine with their R&D studies; "The capacity of the machine has been improved and can save more energy, for the benefit of the textile industry. AIRO 24 is the new and original high-efficiency dryer for continuous and open-width tumbling treatments of woven, nonwoven and knitted fabrics. With the TANDEM version, this finishing machine doubles productivity."
Arguing that the results of the production produced by Biancalani machines is much better than its competitors; Rossano Biancalani said the technical service they provide have a significant share in their success. Biancalani continued saying; "When a machine is installed and commissioned, a technician we call TECHNOLOGIST arrives at the facility and teaches how to use the machine and how to get the best result from it; as well as how to make money from our machine. This is a standard procedure. Because, this is not like a traditional investment, if you buy a machine you need to use it in the fastest way with the highest efficiency increase. Moreover, this quality needs to be continuous. We provide this to our customer with our technical service."
Indicating that the technology experts at Biancalani have about 25-30 years of industry experience; Rossano Biancalani underlined that they have a lot of knowledge to share with customers. Biancalani; "When a customer has a new fabric, a new product, and wants to get technological support; he just needs to call us and the technician will give them free advice."
Efficiency increase, sustainability and innovations are the main focus
Recalling the intensive use of natural resources in textile production; Rossano Biancalani mentioned that they have developed solutions that minimize the use of water, energy and chemicals during the finishing process. Biancalani stated that improvements in efficiency  increase are generally focused on the machine's temperature; "The size of the machine, including its design, has been handled to minimize air and energy losses. The technology used in our machines to run the fabric is air instead of any mechanical dragging; so it is an environmentally friendly, green technology."
Biancalani explained that everything in their machines is designed to minimize pollution, and increase energy savings. Indicating that the waste air is not used again, Biancalani noted that releasing the used air to dry the fabric increases savings, because it is no longer used air full of moisture extracted from the fabrics. Biancalani stated that they continue to develop better ways to transport and to process the fabric during the finishing processes.
ITMA 2019 Barcelona will be the place for innovations
Rossano Biancalani has announced that important developments will be launched at the Biancalani booth for the first time at the ITMA 2019 Barcelona next year. Rossano finished his speech as follows; "One of our innovations will be the latest version of BRIO 24; which provides stabilizing and drying of every knitted fabrics. With this machine, the greatest possible shrinkage in the knitted fabric can be achieved. In addition, the balance of shrinkage effect will be stable. We will be introducing a new drying application as well. In short, we will present 4 different projects to our visitors at ITMA 2019 Barcelona."