A joint venture of Brückner Group, the world market leader for the polyester foil industry, and Oerlikon Textile, the world market leader in systems for the manmade fibre industry, BB Engineering attracted great attention with this innovation at its premiere at the ITMA 2019 in Barcelona. VacuFil contributes to the circular economy by providing many advantages and opportunities in PET recycling.
Due to the climate crisis, while sustainable use of natural resources has become a necessity for every sector today, consumers continue to be globally a driving force in sustainability. For this reason, leading fashion companies, sports apparel and furniture manufacturers, and the automobile industry are increasingly focusing on sustainable products made from recycled materials, for products such as car seats and interior cladding components. Today, the companies are already telling suppliers of filament, fibre and nonwoven that they will be switching from exclusively virgin polyester, in some cases up to 100% recycled polyester, for the manufacture of textile products in the near future.
VacuFil provides many advantages in PET recycling
BBE is a pioneer in the development of processes for using recycled materials, particularly polyester flakes, and converting them into contemporary, market-appropriate products for filaments, fibres and nonwovens for manmade fibre industry consumers. The VacuFil unites gentle large scale filtration and swift intrinsic viscosity build up for consistently outstanding melt quality.
The attached vacuum unit is automatically regulated between 1 and 30 mbar, removes volatile contamination and ensures a controlled IV increase. It also achieves an ideal melt homogeneity, which is vital for the downstream spinning performance. Comprising an inline viscosity measuring unit connected to the vacuum system, the IV can be continuously and reliably adjusted. Thus, producers are able to generate the specific kind of recycled polyester they require for their application.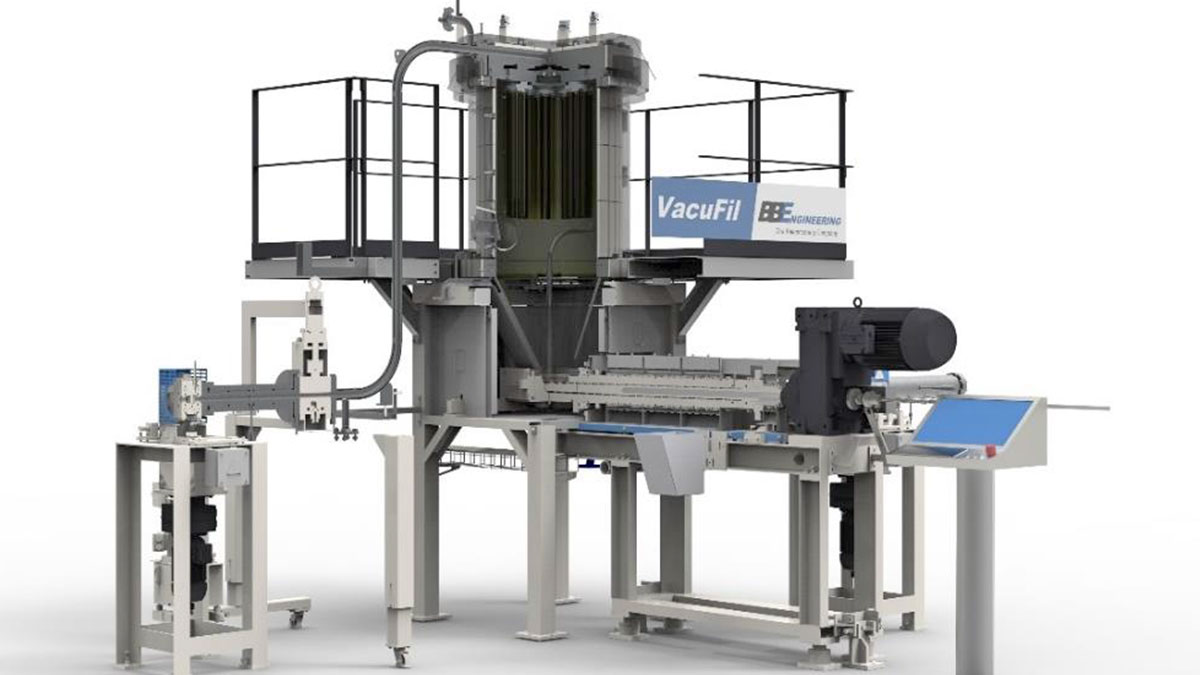 It offers different possibilities in processing polyester waste
With their modular structure and a performance spectrum of between 300 kg/h and a maximum of 3.000 kg/h, VacuFil systems open up various possibilities for processing polyester waste. Bottle flakes, agglomerated spinning waste or a mixture of both can be processed into high-quality PET granulate or fed directly into downstream processes (i.e. the spinning plant).
The entire recycling process is controlled and monitored by Oerlikon Barmag's GUIDE system, guaranteeing the accustomed reliability. With an optional 3DD mixer, the market-proven mixing technology manufactured by BBE, producers can not only add additives to the melt, but they can also easily change rPET ratios in the main melt from between 5 and 50 percent stream in order to comply with legal standards. Besides, VacuFil can be used for requirements of the further-processing industry, including the manufacture of FDY filaments.