swissQprint, the most innovative brand of UV printing technologies, brought the global printing industry together with the innovations in the Karibu model. Represented by Pigment Reklam in the Turkish Market, swissQprint enables more added value in roll-to-roll printing with Karibu S model, which expands Karibu's productivity and printing possibilities.
The popularity of Karibu, the brand's first roll-to-roll UV printing model, gained in the market in a short time, prompted the Swiss manufacturer to further develop the model. Karibu S has a production speed of 330 square meters per hour, and offers higher speed and more productivity than the previous model. S in the model represents 'speed'. Print service providers working in multiple shifts to produce large-volume items such as banners, non-durable poster prints and XL billboards are relieved of a significant burden with this increased production speed. Besides the increased speed, users can get impressive resolution and sharp images and edges.
Productivity increases with automatic double-sided printing
swissQprint added a new feature to both Karibu and Karibu S; automatic double-sided printing. Print professionals access new possibilities thanks to the simultaneous and automatic printing function on both sides of the material. Materials that are printed on both sides such as blockout banners, ceiling hangers, stretch banners, posters and the like can be produced easily and quickly in Karibu S.
Thanks to an integrated camera system and QR codes, this printing process takes place automatically, easily and safely. This ensures that subjects printed on the reverse side are positioned in exactly the right position, so that both sides line up. This function facilitates printing even if the material is not inserted accurately before printing on the reverse side or if the roll is inserted in the opposite running direction. The system always recognizes the correct position for the specified design.
Lory, the intuitive output software developed for the company by swissQprint, guides the operator through the process to simply manage the print job. Thus, while the work to be done by the operators is reduced, the risk of error is minimized. All these innovations respond to printers' demands for higher productivity and value-added printing.
New printhead configuration, flexible inks and neon colours
All swissQprint large format printers have nine dual-configurable colour channels, so one channel is left free to be configured with white to print items such as transparent films. Karibu S features a defined print head configuration. Four print heads are in operation for each process colour. This explains the high throughput rate.
swissQprint innovated not only in printing machine technology, but also in inks. The company portfolio includes an optimised ink for its dedicated roll to roll printers. It features a broad adhesion profile and is very flexible. This means that print service providers can use almost every conceivable type of roll media. And the ink can stand up to everything that the material has to take: cutting, folding, stretching, and so on.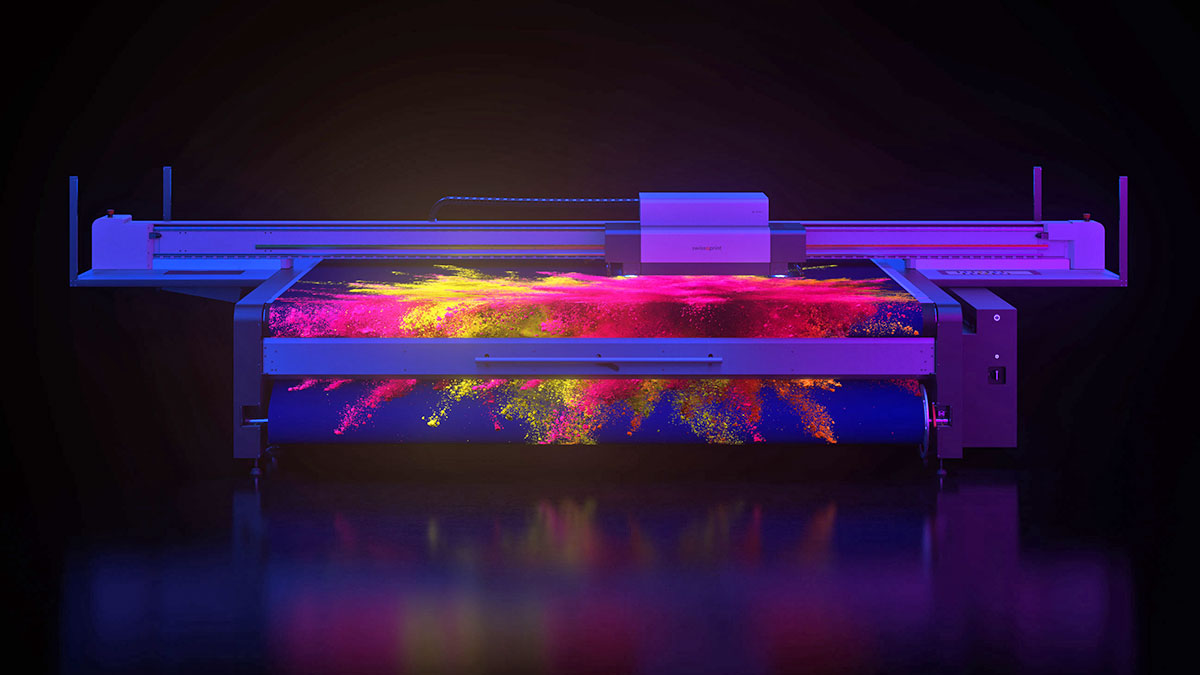 In addition, print service providers can now add swissQprint's yellow and pink neon colours to their custom application portfolio. Neon colours give a special glow to advertising and signage, and these inks are suitable for all swissQprint LED models. swissQprint users can start printing these eye-catching media right now – on rigid substrates in any format and also on roll materials. Neon colour's application possibilities range from indoor applications such as campaign signage, POS displays, signposts, backlits and information signs to posters and wristbands for events. What's more, neon print is fluorescent in black light, which makes it ideal for advertising and signage in trade shows and themed settings, as well as for club and party organizations.
Every swissQprint flatbed and roll-to-roll printer with LED technology can now be equipped with one or more neon channels. Users are free to change or expand configurations at any time, meaning they can work with neon colours whenever they want.
Karibu models, which have swissQprint's renowned robust design structure, also attract attention with their low operating cost and high added value thanks to an above-average lifetime.