Producing weaving solutions including weaving machines, spare parts and integrated services under the roof of Radici Group, Itema maintained its communication with the market during the Covid-19 pandemic period. Ugo Ghilardi, the new CEO of Itema Group, said that the Covid-19 pandemic represents a situation that has never been seen before. Ghilardi announced that they have had reorganization in a total of 7 production facilities, including Itema, Lamiflex and Schoch plants worldwide.
Stating that the group's first factory affected by the pandemic was the facility in Shanghai, China, Ghilardi disclosed that the branch in China was supported by the Italy HQ through the supply of face masks and disposable gloves. Ghilardi; "In this way, and thanks to the strict safety and sanitary protocol implemented, our Chinese branch could resume his activities on the 10th of February after successful completion of local authorities inspections".
Production at Italy plant stopped for a while but supply never stopped
Indicating that security protocols have been put into practice in the facilities in this region with the spread of the epidemic to Europe, Ghilardi said; "Our Swiss based plant never stopped its operations. Italy – and especially Lombardy, the Region where Itema Group Italian plants are located – from the end of February became one of the main outbreak of the disease. We immediately operated to put the safety of our employees in the first place, by activating smart working practices where possible and introducing in our Italian plants dedicated personal protective equipment and social distancing through differentiated shifts. This till the 23rd of March, when the Italian Prime Minister Decree imposed to all productive activities the shutdown".
Ghilardi explained that the spare parts logistics centre is fully operational and working to supply it to customers all over the world, even during production lockdown. Ghilardi mentioned that with the limitation of the activities, they provided an advantage to perform large-scale sanitization in the group-owned buildings in Italy and to prepare and implement the correct security protocols. Ghilardi; "It allowed us to be fully ready to restart our activities on the 4th of May; when the Italian government regulations authorized the resumption of productive activities. We launched the campaign "Stronger, Together, Against COVID-19" to raise awareness among our colleagues".
Itema quickly adapted to new conditions
Emphasizing that Itema has been able to quickly and fully comply with the new dynamics imposed by this extraordinary sanitary emergency; Ugo Ghilardi stated that they reorganized their production processes and offices to guarantee the safety of employees and their families. After taking the necessary security measures; they focused on the customers and the potential effects of the pandemic on the market. In the words of Mr. Ghilardi:
"Low market demand for fabrics, production shutdown; and cash management difficulties were among the main troubles our Customers had to manage in this period. For these reasons, we quickly acted to develop special programs designed to support our Customers in this specific time, under the name of Care&Protect initiatives. Care&Protect initiatives helped our customers maintaining their operations without losing production power. We provided support for them to be ready to restart production with our Care & Protect user guidelines on how to restart the machine after a long stop and, beside this, we proposed special offers to our Customers to help them in this difficult moment. Now that most of the countries are going back to the "new normal life"; according to authorities' permissions in each Country; our skilled, highly trained local teams of Sales Managers and Technicians  are ready to satisfy personally all our Customers' requests".
Itema started the new year with high order quantity
Reminding that Itema made a strong entrance to 2020; Ugo Ghilardi announced that they received significant orders for rapier and airjet weaving machines. Ghilardi informed that they received an intense demand for new solutions introduced at ITMA 2019, and continued saying; "Our Second Generation Airjet machine model, as an example; gathered considerable interest from the worldwide weavers after market launch during ITMA 2019; and this generated significant orders inquiries, along with our well-known bestseller R95002 and our denim-dedicated R95002denim. This pandemic represented an abrupt stop – not only for our lives; but even for our business, that has been affected worldwide".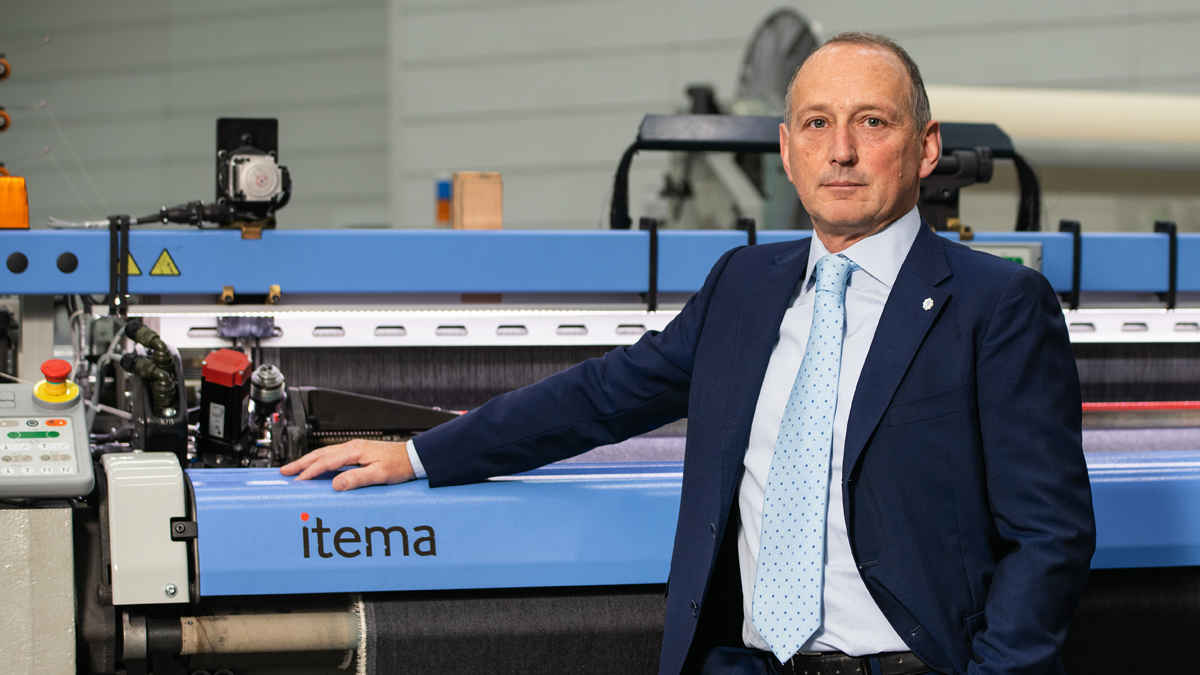 Turkish textile manufacturers placed new orders during the pandemic
Describing the effects of the pandemic on Italy, Ghilardi said that the northern region; the cradle of the textile industry of the country; was negatively affected by this unexpected situation. Ghilardi said that the two biggest markets, India and China, also suffered in this process. Referring to the developments in the Turkish market, Ghilardi said; "A positive signal and a light of hope can be found in the Turkish market. Our Customers, indeed, not only confirmed their pre-Covid orders;, but also came to us with new inquiries for Itema looms despite this difficult situation".
Saying that they are fully ready to support the restart of the textile industry, Ghilardi concluded his words saying; "We are stronger thanks to what we have learned during this difficult historical moment; making us even more digital, reactive, smart and agile than before".