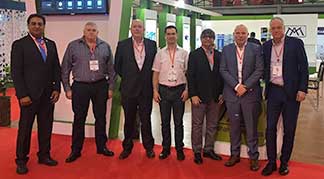 Picanol participates in Techtextil NA and IGATEX Pakistan. Picanol, an advanced rapier and airjet weaving technologies and services producer, is pursuing an effective marketing strategy in the global market. The company participated in the Techtextil NA 2019 held in Northern Carolina between 26-28 February 2019 and introduced their solutions for weaving technical fabrics. Another stop of Picanol was IGATEX Pakistan 2019, which was held on 26-28 February 2019 in Karachi, Pakistan.
Picanol, participating at the Techtextil NA 2019 with an information booth, talked about the advantages of rapier and airjet printing to the technical textile manufacturers in the North American market. Picanol has a long and close relationship with the American textile industry. On February 1, 1966, the group set up its own subsidiary, Picanol of America, and since then has set up tens of thousands of weaving machines in the American weaving mills. For Picanol, America has always proven itself as a strategically important market. In the course of time, with the transformation of the technical fabrics segment into a more dominant area in the American textile industry, Picanol has positioned itself as an innovative and reliable solution provider. The transformation of Techtextil NA into an important fair for Picanol was the result of the development of this market.
Picanol did not only promote their rapier and airjet weaving machines at Techtextil 2019, but also the extensive range of services and support that they provide to their many customers from their 18,000 sq. ft facility. Training, electronic repairs, new machines installation & start-up, textile technical support, spare parts, and weave-up upgrades were among the most critical services that the Picanol team discussed with visitors. Picanol once again managed to reflect their famous 'Let's Grow Together' slogan in this fair.
Picanol participates in Techtextil NA and IGATEX Pakistan: Pakistani weavers met Picanol solutions
Developing textile market of Asia, Pakistan is always interested in new technologies. The IGATEX Pakistan, which attracted the country's important textile manufacturers, was a proof of this. Putting great emphasis on the Pakistani market; Picanol has been represented by Madhani Associates in Karachi and Ghauri Enterprises in Lahore for the last 5 years. The company participated in IGATEX Pakistan 2019 in their representative Madhani Associates' booth.
Their two representatives in Pakistan, their local Picanol Service team; and all Picanol elements on this dynamic and challenging market on a day-to-day basis have strengthened Picanol's long-standing presence and success in this local market.
Picanol machines enable production in the four main Pakistani weaving segments: denim, sheeting, bottom weight and terry towel. Both the OMNIplus Summum airjet and OptiMax-i rapier have proven to be the most productive weaving machines in Pakistan; as well as other regions. This is an impressive feat as weavers in Pakistan run the machines at maximum speeds; not a pick per minute less!
Picanol's high levels of productivity, speed and efficiency are complemented with the lowest running costs; which come thanks to a unique approach to energy saving; producing more meters of quality fabrics at the lowest cost possible. Ultimately, this makes a real difference; and is the reason why the number of Picanol machines installed in Pakistan is continuously increasing. Picanol also offers an extensive range of services and support including; training, electronic repairs, parts, weave-up upgrades, harness frames, machine installation & start-up, and textile set up & optimization assistance in this market.