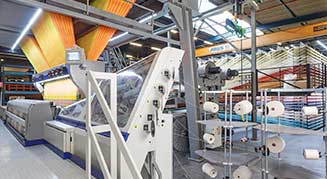 Offering complete carpet solutions from granulate to carpet, Vandewiele will participate in Domotex Turkey 2019 which will be held from April 27 to 30 in Hall 2 Booth C215. The fair is an ideal platform for Vandewiele to meet with present customers and many prospects for future business. The fair also provides the company with the opportunity to strengthen their long-term relationships with their customers and to present their new developments to the carpet industry. Vandewiele will highlight the advantages that they offer their customers under all product ranges.
Vandewiele, expert in yarns
The final quality of a carpet is mainly dependent on the quality of the yarn being used. Vandewiele's experience in woven and tufted carpet, combined with the technological know-how of efficient yarn production, has led to the development of their current line of extrusion equipment.
After extrusion, yarns are often cabled and heatset. The French company Superba, part of Vandewiele, is since many years a world-leading manufacturer of heatsetting equipment. The Superba equipment uses a unique and highly performing system using saturated steam as to set many different kinds of raw materials including polypropylene, polyamide, acrylic, PET, wool,… Superba is very well known for their TVP3 line for heat setting and LV3 line for acrylic applications.
The space-dyeing machine which allows printing a random pattern of colours on the yarn is already a big success. It gives the developer endless possibilities to create new and interesting designs which can be used in woven as well as tufted carpet qualities.  And the success story continues with the introduction of new Multicolored BiColor Frieze (Textured) yarns that will open new opportunities for carpet designers.
The most flexible tufting system: Colortec
Introduced by Cobble Tufting Systems under the roof of Vandewiele, Colortec is described as the most flexible tufting system on the market. A wide variety of 'jacquard patterns' for carpets and rugs are available in 5/32", 1/7" or 1/10".
With the Colortec and its ICN technology, the Individual Control Needle, a higher efficiency and quality will be reached. It will only tuft pile where required and therefore saving yarn for shaped carpets. Moreover, this allows you to tuft with 'weaker' yarns (e.g. wool), less yarn on the back and this up to 12 colors and multiple color mixes. Carpets or rugs in cut pile can be produced in virtually any pattern imaginable. With the ICN technology each tuft can be sewn selectively with any of the colours in use; producing individual tuft definition in complex patterns directly comparable with Axminster or Wilton woven carpet.
Van de Wiele, expert in weaving
The HCiX2 Handlook Carpet Innovator is a high density carpet weaving machine; using the patented three rapier weaving technique with stationary incorporated pile yarns; giving a clear back, less incorporation and a higher weaving efficiency. The design on the pile side is crystal sharp. There are no visible warp yarns on the backside, which makes the carpet look like real handknotted.
The HCiX2 carpets in acrylic, viscose, polyester, are woven with optimized efficiency. Designs in the border, filling effects and natural fringes are all possible.
The new showpiece in carpet weaving is the "HCiX2" in reed 1500 dents per meter, 8 colour frames (1500/8). This high density carpet weaving machine, available in 3 and 4 meters width; is able to weave carpets with up to 5 million points per square meter, creating niche high end products. The same machine is able to weave carpets in reed 750 dents per meter, with 16 colour frames. The HCiX2 is perfectly suited for picture weaving; instead of the traditional labor-intensive designing of woven carpet; a photo-realistic picture is processed in real time and converted to a design that fits the weaving machine. The HCiX2 is also available in the common configurations 1200/8, 1000/10, 1000/8…