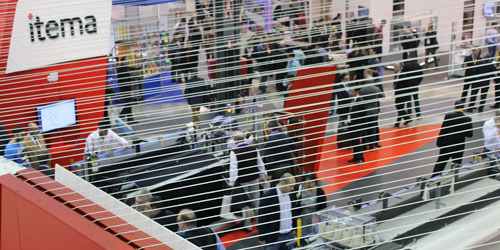 Making difference in the industry via its weaving technologies, Itema Group's booth was among the most attractive ones during ITMA 2015. All new models including R9500terry came into vogue. 
Itema Group participated in ITMA 2015 Fair with new air jet and rapier weaving technologies and grabbed great interest with R9500terry and new R9500 models. The series' new models follow the successful suit pioneered by the rapier technology R9500 which was launched in end 2012. They manage a better and faster weaving with a smarter process. Itema displayed 6 weaving looms that are outstanding in their own areas at its 600 meter square booth. Also, Itema Group's representatives in Turkey, Bilol Mümessillik and Alfredo Modiano, involved closely with visitors throughout the event as.
Launched before ITMA, R9500terry has set a new benchmark in weaving terry. The machine is the most advanced terry loom in the market by far with the most advanced cutting edge technology. The sturdy, high precision machine frame, exclusive rapier drive system Turboprop and the innovative SK Weft Transfer are among the machine's features that best represent power and quality.
R9500 model has a strong structure as it was equipped with the new Rapier 2.0. It reduces arrests via new rapier gripper, shed opening system, oil cooling system and many other advanced skills. All those features provide the opportunity of weaving fast, reliable and more diverse textile products for weavers. The company's newly developed air jet machine, meanwhile, addresses textile countries particularly India, Turkey and Brazil. The company's booth housed also solutions towards tough textile weavings including for denim and silk.
New Itema R9500p was developed for "Better, Smarter, Faster" weaving. The model is smarter and more flexible to obtain the perfect fabric surface. Its performance stays strong even in the toughest style weavings and it quickly changes styles. It has QRP sign that emphasizes advanced quality, reliability and performance and has 2 years warranty.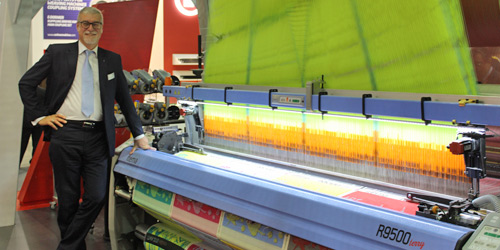 R9500terry Becomes Market Leader
Itema Group Sales and Marketing Director Fulvio Carlo Toma gave information about exhibited products, reminding that R9500terry rapier weaving machine was launched at the company headquarters in a series of dedicated events in July and September prior to the fair. "We achieved a great success in this launch, during which we also welcomed customers from Turkey. We sold more than 100 sets of R9500terry machine to Turkey and other places right after the organization," Toma reported.
Fulvio Carlo Toma claimed that R9500terry weaving machine turned to be a global market leader owing to its quality, price, innovation, details and sales numbers. This model has already grabbed the attention and intense demand particularly from Italy, Turkey, Japan, Vietnam, Portugal, Spain, South Korea and South America. "While it normally takes around 3 years or even more to develop and launch a new product in the market, we are now able to reduce this drastically to just one year as in the case of R9500terry. We were so happy with the result and impatient to share with the terry weavers worldwide the new machine to "Weave Terry Like Never Before" that we could no longer contain ourselves and wait for ITMA, hence the early launch.  Our main principle in product development and launch is that, if there is a rule, it is there to be broken.  The sky is the limit.  And yes it was a feast of bravery, and well worth taking the risk to launch the machine before ITMA," Toma argued.
"We Dominate the Turkish Market"
Turkey has been and continues to be one of the most important markets for Itema Group, said Fulvio Carlo Toma. The company dominates the whole market with the support of its two agencies, Bilol Mümessillik that provides services and sales in all regions, excluding Denizli, and Alfredo Modiano which covers the latter region and select other accounts. Toma noted, "We supply machines to 50% of the Turkish market. We are aware of the very strong competition and hence we focus more on details."
Regarding their expectations about Turkey, Toma commented that stability in Turkish economy will reflect positively on the company. Expecting increased sales in tandem with a growth in economy, Toma ended, "Textile is a primary market like food. Turkey has started to stabilize its economy like in the previous years. This is encouraging for us."