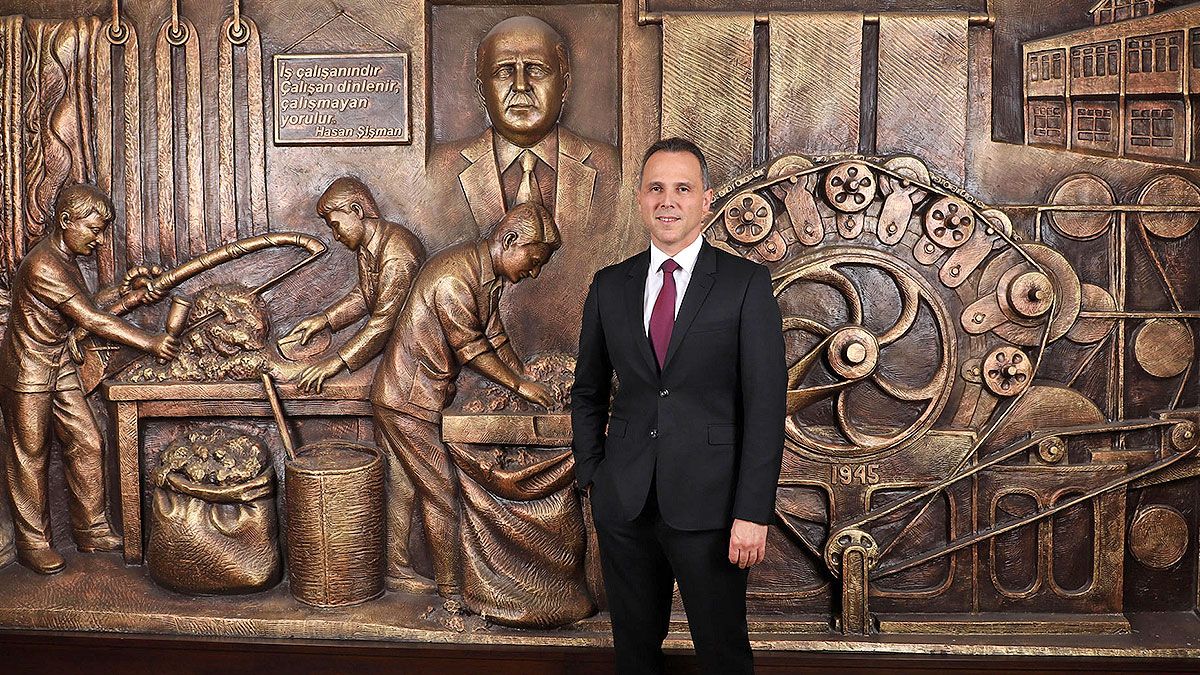 Hassan Tekstil, one of the Hassan Group companies, has reached the capacity to produce products for 74 million automobiles in motor isolator products with an investment of 12 million euros. Hassan Tekstil aims to become the global competitor of two European companies producing motor isolators in the global market with this large investment budget that does not cover the cost of buildings and land. Established in 1987, Hassan Tekstil produces nonwoven products for the automotive industry such as motor isolator, seat cover lining, seat back rug, floor rug, luggage floor and side wraps, ceiling fabric and rear parcel shelves.
Making a statement about the investment, Hassan Tekstil General Manager Ahmet Şişman underlined that the biggest sector they serve is automotive. Şişman gave the information that the new line was designed in accordance with the digital transformation in the industry and continued as follows; "This was the biggest investment ever made in the group. In this way, we have increased the motor isolator products that we produce with limited capacity in our existing lines in the automotive sector to levels that will provide products to 74 million vehicles annually. After commissioning our new investment, which we are proud of, we worked 60 customer samples and 56 of them received production approval in the first trial. Thanks to this success, our recognition and reputation in the sector has increased".
Şişman said that brands such as Mercedes, BMW, Ford, Toyota, Renault, Honda, Porsche, Nissan, Peugeot and Dacia are amongst the brand with currently ongoing projects. Şişman announced that they expect Tesla, Jaguar and Volkswagen to be included among the brands they work with in 2020. Stating that negotiations for the use of Hassan Tekstil products in Turkish domestic automobile project is still continuing, Şişman said they were willing to produce the floor, luggage and ceiling carpet of the vehicle.
The new line will produce unique products for Hassan Tekstil
Ahmet Şişman explained that they are trying to develop a new production technique with regard to the motor isolators to be produced on the new line with their knowledge, and they have applied for an international patent. Şişman; "In this way, we will provide important advantages to our customers during their production. The first tests take place abroad. After the field tests are successful, we plan to realize this first production".
Hassan Tekstil's new investment will manufacture products with more homogeneous surfaces with Hyperpunch technology. This will help the company to achieve all standards in the motor isolators product group features; such as non-flammability, water and oil repellence.
Ahmet Şişman: "We will enter the Chinese market"
Announcing that they will start making sales in the Chinese market; with the new motor isolators to be produced in the new line; Ahmet Şişman argued that it was actually very easy to export to China from Turkey; due to the low transport costs. Şişman said; "Since the manufacturers in China already import these products from Europe; we will be a very good alternative supplier to them. If we reach our goal and start working on the market; we will then realize a first for our group as well. We wanted to enter the Chinese market since 2000, but we did not have suitable products. We are very close to entering this market with the motor isolator products we will produce in our new line".
Hassan Tekstil focuses on R&D studies as well as production technologies. Transferring 1.7% of its turnover to R&D in 2018, the company increased this rate to 1.90% by the end of 2019. While the average of Turkish companies in transferring resources to R&D is 1.4%, this rate rises to 2.7% in Europe. The R&D department of Hassan Tekstil, which has 4 laboratories, holds 14 national and international patents. The company received the 'Best Product Award' in the Sustainable Product category at Index Award organized by EDANA in 2017.
Successful journey of Hassan Group
Having started its sectoral journey with shoulder pad production in 1939; Hassan Group currently produces nonwovens in 9 different locations; primarily for automotive and hygiene, domestic appliances, furniture, building and construction sectors. The group, which has over 1.200 employees in 7 different companies; obtains 45% of its turnover from the domestic market and 55% from exports.